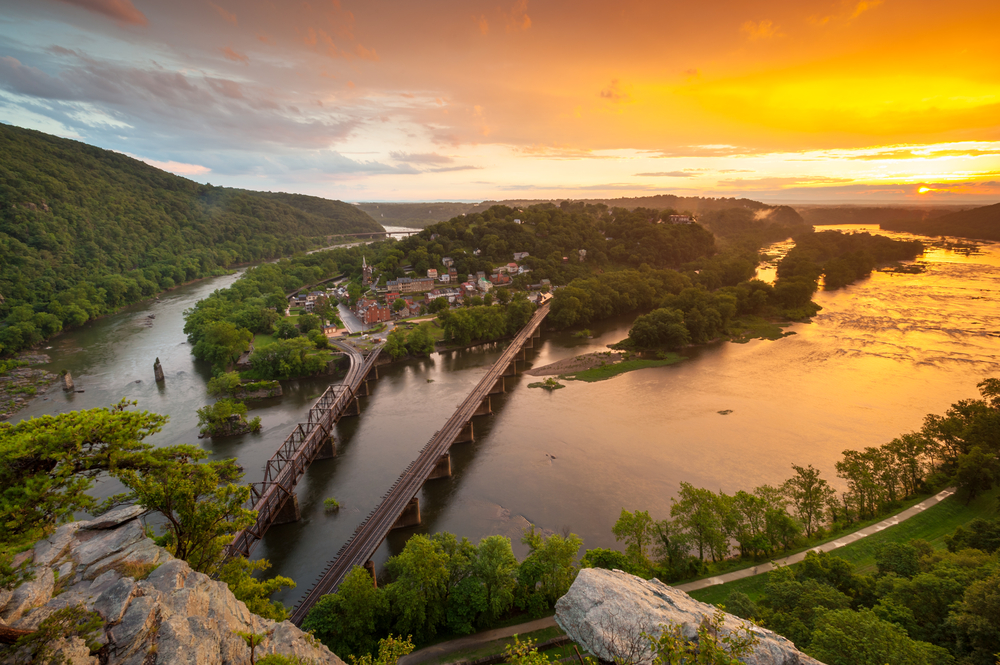 October 13, 2021 2:36 pm
Leave your thoughts
Harpers Ferry was recently named one of the 26 most beautiful towns in America in an article in Conde Nast Traveler! If you've ever visited Lily Garden Bed & Breakfast here in Harpers Ferry, you know just how charming our town can be.
Here's what the publication had to say about our little town:
"Harpers Ferry has a lot going on, geographically speaking. After all, it's where West Virginia, Virginia, and Maryland meet, and where the Potomac and Shenandoah Rivers combine. The scenic junction and surrounding Harpers Ferry National Historical Park make for one very picturesque townscape, especially during those leafy autumn months. Meanwhile, the town offers constant historical tours (it was the site of John Brown's raid) and the occasional ghost tour. There's more than enough here for adventurers, as well, like kayaking, rafting, zip lining, rock climbing, and hiking on the Appalachian Trail."
The town itself is, of course, charming and a lot of fun. But the beauty of Harpers Ferry is helped in large part by the natural treasures surrounding it. These include:
Harpers Ferry National Historical Park: Here's a really remarkable combination of history and nature that is absolutely worth visiting on your next trip. As you explore the Blue Ridge Mountains and the waters of the Potomac and Shenandoah Rivers, you can find historical sites and heritage areas, with a lot of history from the Civil War era in particular.
Appalachian National Scenic Trail: Stretching out over 2,000 miles, the Appalachian Trail is a public path that goes through wooded areas in the Appalachian Mountains. It was built by private citizens in the 1920s and 1930s and is managed by the National Park Service, the U.S. Forest Service, the Appalachian Trail Conservancy and other organizations. It's a gorgeous way to get up close and personal to the wilderness of the region.
Chesapeake and Ohio National Historic Park: The Chesapeake and Ohio Canal runs for over 180 miles and is part of America's heritage of early means of transportation. Communities along the Potomac River would use the canal to float coal, lumber and important agricultural products to market. Today, there are all kinds of historical, natural and recreational sites available along the canal that make it a big attraction to visitors and locals alike.
Lewis and Clark Historic Trail: This trail honors America's indigenous peoples as well as the most famous explorers in our national history.
Potomac Heritage National Scenic Trail: This trail has something for everyone—history, nature, wildlife, recreation and conservation. Different regions offer different experiences, but all are beautiful and worth your time.
There are so many things for you to see and experience when you come to Harpers Ferry, and it won't take long for you to realize why our little town has gained national recognition for its beauty.
Our historic bed and breakfast here in Harpers Ferry is open for business and ready to host you for your next adventure or relaxing getaway. For more information about our accommodations, contact us today. We look forward to seeing you here soon!
Categorised in: Hiking
This post was written by admin