People come once ​to discover Harpers Ferry, WV, and keep coming to make reservations and relax ​at our lily pond at ​​Lily Garden​ Bed & Breakfast ​​and enjoy refreshing ​hikes and river ​activities.​ And who can blame them with so many exciting things to do so close by, you're sure to find something you'll like.
Below you'll find more information on ​​​hiking ​​trails, ​​​discovering Loudoun County ​wineries, tubing on the Shenandoah River, ​​biking ​along the Potomac River, picnicking in the meadows, antiquing​, visiting ​civil war museums, and more.​​ Not sure which one you'd like? When you're in Bolivar, Bakerton, Sandy Hook, or Silver Grove, WV, contact us for suggestions on all the best things to do!
Historic Sites & Trails
Hiking & Family-Friendly Fun
Besides so many amazing activities in the areas, we're also a great getaway from your busy life in Washington, D.C. or a quiet respite when you're in D.C. on business and need a break since we're a quick ride from ​Washington Union Station on the ​MARC Brunswick commuter train​ or ​​​Amtrak.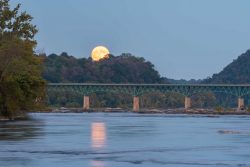 The October full moon, sometimes called a Hunter's Moon, rises above the Potomac River and a bridge connecting Maryland and Virginia.