Lily Garden Bed & Breakfast is a proud supporter of agritourism in Harpers Ferry, WV. To that end, we're excited to offer visitors to our bed and breakfast access to a beautiful, natural ecosystem in our lily pond.
The pond we have at Lily Garden is there year-round, thriving with plant and animal life that's truly beautiful to behold and simply wonderful to admire. We're extremely proud of the pond, and we're certain you'll see why when you stop by for a visit!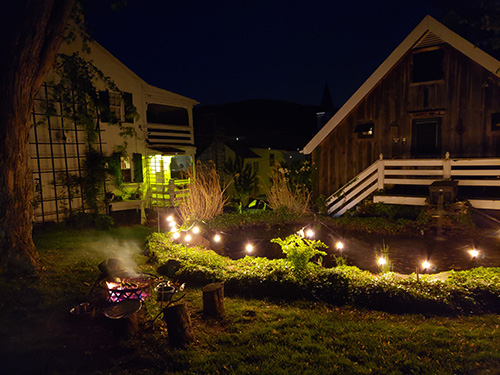 About Our Lily Pond
The lily pond has been a staple at Lily Garden Bed & Breakfast for years. In 2018, it received some much-needed attention and was fully reinvented in all its splendor today. The pond was drained, dredged and cleaned, with new lily pads repotted and the surrounding areas cleaned up.
Today, the pond is well-maintained and extremely calming. You can't miss it when checking into the property and you're sure to stop and linger by it for a moment, to take in its beauty. We encourage everyone to stroll past for a view at night, when the pond is lit and calm. It's the perfect place for a moment of reflection before bed!
Plants and Animals of the Pond
The plants and animals of our lily pond aren't things you'll find at home in your own vegetable garden in Harpers Ferry W. VA! We've cultivated some truly breathtaking species, thanks to the nearby Lilypons Water Gardens. They supplied most of the plants you'll see on our property, including all the following:
Blue Lobelia
Cardinal Flower
Chinese Snails
Comets
Double Flowering Arrowhead
Garry Wagner
Gold Medal
Golden Club
High Cotton
Horsetail
Obedient Plant
Pekinensis Rubra Lotus
Pickerel Rush
Pink Sensation
Shubunkins
Sunfire
Thalia Dealbata
Umbrella Palm
White Pickerel Rush
Lilypons
If you're visiting Lily Garden Bed & Breakfast for agritourism in Harpers Ferry W. VA, we can't say enough good things about the nearby Lilypons Water Gardens. They've been in business for over 100 years! We get most of our plants from there, so what you see with us is just a taste of the splendor they have to offer!
They even have water fields of lotus that bloom vibrantly in the summer. It's truly a sight to see.
Visit the Lily Garden
Lily Garden Bed & Breakfast proudly welcomes visitors from Harpers Ferry, Bolivar, Bakerton, Sandy Hook, and Silver Grove, WV seeking a peaceful, relaxing getaway. We invite you to book your bed and breakfast reservations with us to see not only our beautiful lily pond, but other local attractions as well.
Book today by calling 304-535-2657.